Windows Phone 8.1 Hacked
|
Just few weeks after Microsoft announced a 19 year-old critical security hole existed in almost every version of its Windows operating system, XDA-developers have discovered a new vulnerability in Microsoft's youngest OS Windows 8.1 that could easily be exploited by hackers to hack a Nokia Lumia phone.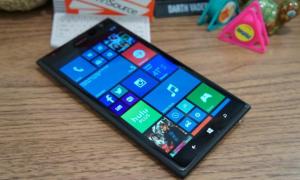 XDA Developers hacker who go by the name DJAmol has found a wide open hole in OS Windows Phone 8.1 which makes the operating system very easy to hack. The vulnerability allows attackers to run their application with other user's privileges and edit the registry.
DJAmol realized that simply by replacing the contents of a trusted OEM app that has been transferred over to the SD card, the app will inherit the privileges of the original app. Once done, an attacker could then delete the existing directory and create a new directory with the same name as the original App.
Source: