The Ten Most Wanted Hackers by the FBI – No. 5, No. 4 and No. 3
|
This week in Tripwire's countdown of the FBI's Cyber's Most Wanted, we name three hackers bound together in cybercrime: Wen Xinyu, Huang Zhenyu and Sun Kailiang.
Our suspects made headlines earlier this year when the United States Department of Justice indicted five Chinese hackers for committing economic and cyber espionage against several American companies. Wen, Huang and Sun were among the five named.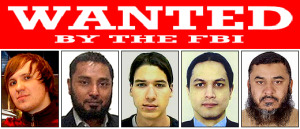 The other two Chinese hackers, Wang Dong and Gu Chunhui, are also currently wanted by the FBI.
Source:http://www.tripwire.com/state-of-security/government/the-ten-most-wanted-hackers-by-the-fbi-5-4-and-3/
(Visited 41 times, 1 visits today)